Is Aaron Mooy Destined for Bigger Things?
|
When a football club is sinking, the first ones to jump ship are the star players. Like women and children on the Titanic, the top performers often scurry to find a new home while those around them contemplate life in a lower league. This season, Huddersfield Town could end up in one of these precarious positions. Although it's not quite time to man the lifeboats and prepare for a mass exodus, there are some players that could be on the top deck ready to make a break if things get any worse.
Now, at this point it's worth pointing out that we're not saying Huddersfield are destined for the Premier league's relegation zone. However, there's no doubt David Wagner's side have been underperforming of late. Indeed, the immediate run after the Christmas period has been poor except for a slither of form in the FA Cup. With the situation inching closer to a disaster, many fans will now be looking at the top players and wondering if they're going to leave. One man that's likely to leave if The Terriers go down is Aaron Mooy.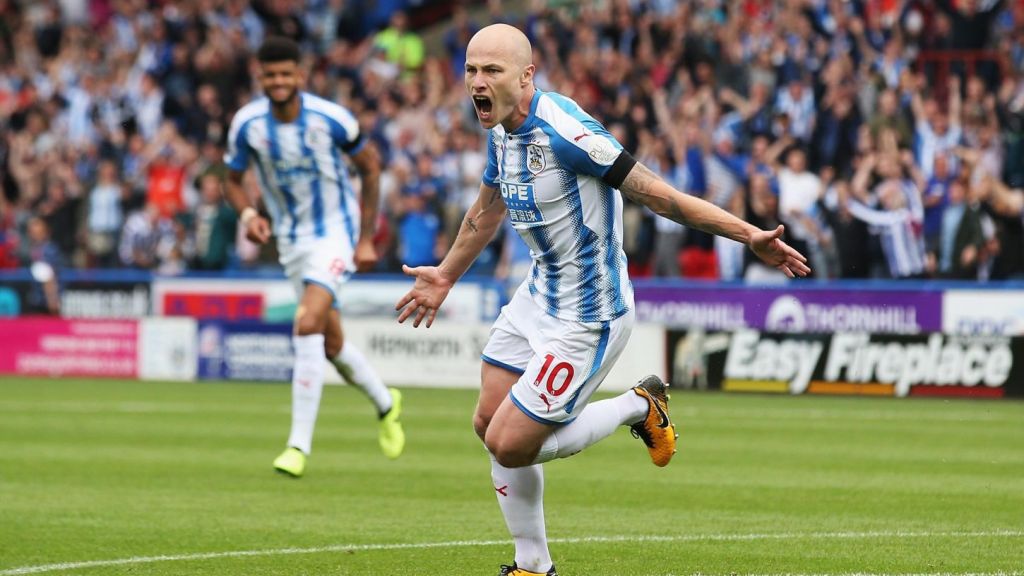 After a season on loan from Manchester City, during which he helped Huddersfield get promoted to the Premier League, Mooy eventually signed over the summer. Despite missing out on a place in City's first team, there's no doubt the Aussie midfielder is a talent. In fact, according to Wagner, he's been the heart of the team this season. However, even with Huddersfield apparently coursing through his veins, Mooy could consider a move if relegation strikes and another topflight team comes calling. Again, we're not saying this will happen, but it could. In fact, to show you what we mean, we've highlighted some qualities that would make him a target for another club.
He's a Perfectionist
All professionals are perfectionists to some extent, but Mooy is so tough on himself that it hasn't gone unnoticed by Wagner.
"He is very self-critical too and knows he has not been on his best and that we have to all pull together to make sure he comes back to his best – there are no arguments about this," Wagner told the media.
This level of self-awareness is something those with an ego lack. Having a player that's capable of identifying his own faults is great if you're a manager, but the real benefit is that he'll be able to take criticism. How many elite-level players over the years have either crumbled or lashed out as a result of a coach's comments? Mooy isn't one of those players and that has to be appealing for any boss.
He's Played at the Highest Level
There's a lot to be said for a player that has international experience and Mooy has plenty. Making his debut for Australia at the age of 22, he's since earned 31 caps for his country. Now, if you look at the latest World Cup odds, Mooy might not get many chances to increase that number this summer. Even though the Socceroos have put in strong showings as the last few World Cups, the odds makers currently have Australia's finest at 401 to lift the trophy.
In contrast, the likes of Germany and France are 5.75 and 7 respectively. By this token, we might not see much of Mooy in what's arguably the biggest shop window in football: The World Cup. However, regardless of that fact, he's still managed to notch up five goals and 11 assists during his international career. Even though that's not going set the world alight, it's a solid record that would suggest to any manager that he's a big game player.
He's Consistent
If his quest for perfection and international experience isn't enough to make Mooy a target, then his stats could tip the balance. If you look purely at his scoring stat for Huddersfield, four goals won't make you lose your mind. However, his shooting accuracy has been noted at 25%. This level of consistency carries over to his crossing with the statisticians having his accuracy rating at 20%. Extrapolating from this, it's clear that Mooy isn't always gunning for glory, but when he does it's often successful.
When it comes to a midfielder's other job, i.e. stopping the opposing team, Mooy is just as solid. A 54% tackle success rating, including 21 interceptions and 32 clearances so far for the Aussie show he's not afraid to get stuck in. Does all of this mean Mooy is one of the top midfielders in the world? Probably not. However, there's no doubt he's a top-level player that's more than capable of making a mark in the Premier League. With that being the case, there's a strong chance he could move onto bigger and better things if Huddersfield go down. Quite where that would be is unclear, but we're pretty sure there are plenty of managers that would snap him up if the chance arose.