The Highest Paid Footballers in the World
|
Who is the highest-paid footballer in the world, and how much do they earn every year? The new Footy 100 tool compares salaries across different leagues and with other sports.
In line with popular opinion, the Footy 100 index reveals that FC Barcelona's Lionel Messi is the highest-paid footballer in the world, with an annual salary of £70m. If you include his endorsement earnings (£27m), Messi makes a staggering £97m every year.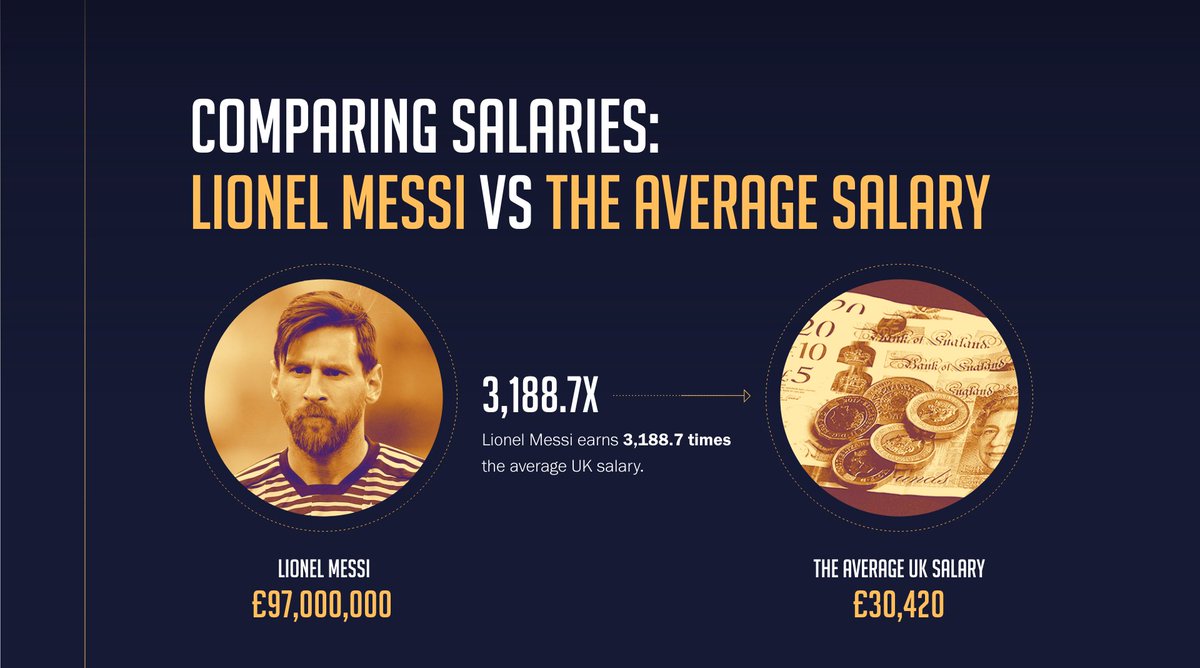 The top 5
Behind Messi is Neymar, who earns £57m from Paris Saint-Germain. Cristiano Ronaldo, in third place, takes home £50m a year from Juventus, while Barcelona's Antoine Griezmann is next, at £39m. In fifth place is Real Madrid's Eden Hazard, who earns £26.6m per annum.
Using the tool, you can also select other leagues from around the world, including the English Premier League, Spanish league and even women's football. 
To quantify just how much footballers earn, the index calculates how many average houses each player could buy outright every year, month and week on their salaries alone – with some shocking results. 
Sports stars
But it's not just footballers who make stellar salaries; many other sports pay sky-high wages to their greatest stars. 
To compare which sports pay the highest salaries, the Footy 100 includes the highest-paid athletes from different sports.
Unsurprisingly, Messi takes the top spot yet again, storming ahead of boxing's Canelo Alvarez in second place. Roger Federer, the highest-paid tennis player, comes in third. However, further highlighting the gender pay gap in sport, the highest-paid female athlete, Serena Williams, earns over three times less than Federer.
How do you compare?
Although you may think that sports stars' salaries are justified, the index makes for some difficult reading when it compares your wage to the top athletes.
For example, Messi earns the average UK salary every 39 minutes – insert your own to calculate how quickly he makes your yearly pay. 
The tool also works out how long it would take you to pay off a mortgage on the type of home that Messi could afford to buy. When you see the figures, it poses the question: are footballers actually paid too much? You may change your mind!
Nevertheless, it doesn't seem that footballers' salaries are going to change anytime soon – with enough people still enjoying the sport, players can continue to command high paychecks.