Real Madrid step up Richarlison pursuit?
|
Real Madrid have reportedly "explored" the possibility of signing Tottenham Hotspur forward Richarlison.
The 26-year-old endured a torrid campaign, with his contributions in the Premier League and Champions League limited to a mere three goals and three assists. Such numbers, with his 16 starts and 16 appearances as a substitute, fall far short of the lofty standards set by the Brazilian maestro.
The striker managed to score as many goals in a mere four starts during the World Cup as he has mustered for Spurs thus far. Nevertheless, the powers that be at the Tottenham Hotspur Stadium remain resolute in their belief that he can turn the tides and ascend to greater heights, provided he finds his footing under the guidance of the incoming manager.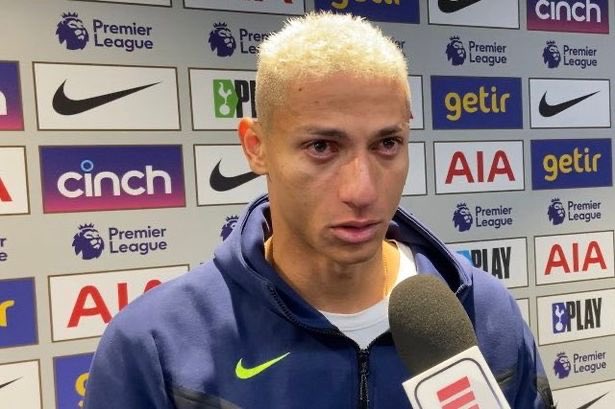 Yet, complications abound on the horizon. The air is thick with uncertainty surrounding the future of Harry Kane, the talismanic figure whose presence has thus far impeded Richarlison from occupying his preferred central role in Spurs' attacking unit. Moreover, Tottenham Hotspur find themselves perilously close to missing out on the coveted stage of European football for the forthcoming 2023-24 season.
In the midst of this conundrum, Real Madrid's continued interest in Richarlison casts a tantalising aura of intrigue. Will the mercurial Brazilian seize the opportunity to ply his trade at one of the world's most successful clubs? Or will he persevere with his current venture, seeking redemption and redemption alone? Only time will tell, as the curtain lifts on the next act of this riveting footballing saga.
The article suggests that Real Madrid manager Carlo Ancelotti holds a genuine admiration for Richarlison's talents and versatility, having witnessed his prowess during their time together at Everton.
Los Blancos find themselves lacking a recognised backup option for their primary striker Karim Benzema. Furthermore, Mariano Diaz is set to leave the club on a free transfer at the end of June, exacerbating the need for alternative attacking options.
Should Real Madrid decide to pursue Richarlison, it is speculated that Tottenham Hotspur would demand a substantial fee to part ways with their prized asset. With the Brazilian under contract until 2027, it is rumoured that Spurs would expect Madrid to match the full £60 million they paid for his services just last year, should they contemplate a surprising sale.
As the transfer saga unfolds, it remains to be seen whether the Spanish giants will make a decisive move for Richarlison and if Tottenham Hotspur will entertain the prospect of parting ways with their enigmatic forward.